I don't work with formulas, I don't have a preset for you. No, we get to create together. We get to connect to our intuition and to let the inspiration flow. And things will shift for you. You'll get to connect with what is really important for you and to start living a joyous and peaceful life and career. And that's Fun and Exciting!
The clients that I'm most passionate about working with are introverts who want to speak up and share what's on their mind, to create their lives and careers with courage, kindness and compassion. Some of the work that we do is on communication skills, personal development, discovering your vision, trusting your intuition, building trust with your colleagues and much more.

What is possible for you from this perspective?
My answer to that – a life worth living for!
Let's have a conversation – I want to gift to you this opportunity to Break Free from all of your day by day routine that's not serving you.
Book a Free Clarity Call and let's talk!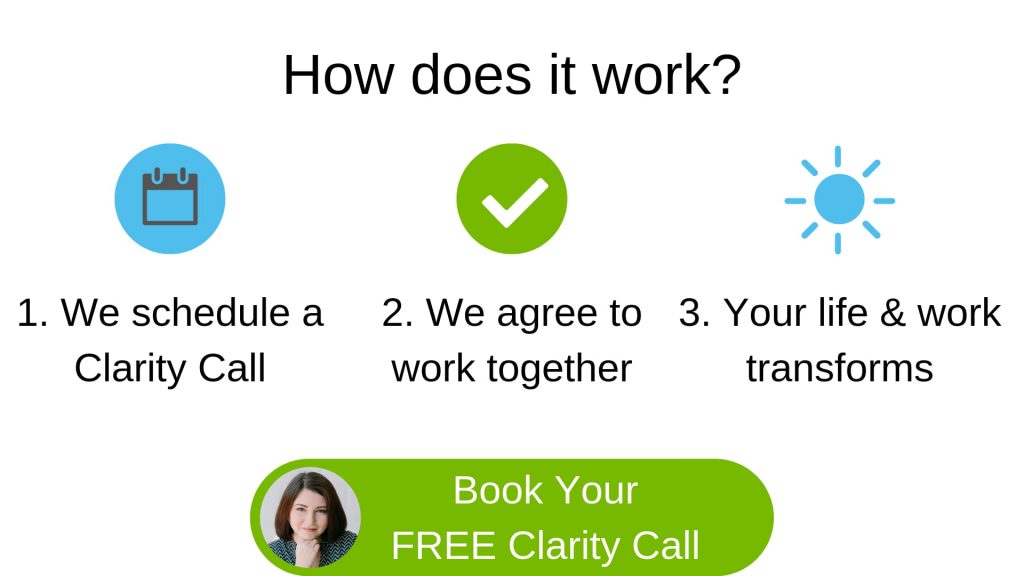 ---
My Services are Custom-Made.
Because You are Unique, and because I want to honour that uniqueness, each coaching program is adjusted to your Vision.  Our sessions are confidential and you have control of the coaching agenda.
Some insights into my coaching:
I work with

Inspiring and Courageous human beings

(yes, you! Even if it might not seem that you are inspiring and courageous, I'm here to call that out in you!) who are ready to let their Authentic Self be seen, to create a work and a life that is Heart-Centred and filled with Joy, Meaning and Contribution.

My clients come into a session with an open

mind

and heart. I care that you come into a session without holding back. I care that you Become your Best Version. I ask of my clients to be Authentic, Real, Vulnerable. I will also be Authentic, Real and Vulnerable and I will share my stories with you.
You invest in Yourself, I'm here to help and guide You and your Vision 100%

. You invest your time, commitment and money into your Joy, Purpose and Authenticity.

---
Commercial Range
September 2022 Prices
Diversity & Inclusion – 3 months intervention: 15,300 – 21,000 USD*
Talent Development – 6 months intervention: 32,400 – 78,000 USD*
Wellbeing 360 – 12 months intervention: 34,500 – 120,000 USD*
Leadership Coaching and Mentoring sessions: 1,100 AED (300 USD) per session**
The GC Index® Review sessions: 1,100 AED (300 USD) for the GC Index® assessment and one-hour review session.
*Range approximated based on 20 team members' individual sessions
**a typical session is between 45 minutes and 1 hour long
---
---
If you are ready to explore what working together can be like, contact me using the form below. Some things I'd like to know before our call:
1. Where are you holding yourself back from leading with confidence?

2. How would you like your next five years to look and feel like?

3. Why is this a good time to move into action and start leading with kindness and confidence?

Optional:
1. Who referred you?
2. Where do you live?
eyJpZCI6IjQiLCJsYWJlbCI6IkNvbnRhY3QgbWUiLCJhY3RpdmUiOiIxIiwib3JpZ2luYWxfaWQiOiIyIiwidW5pcXVlX2lkIjoiZm9lNDJrIiwicGFyYW1zIjp7ImVuYWJsZUZvck1lbWJlcnNoaXAiOiIwIiwidHBsIjp7IndpZHRoIjoiOTAiLCJ3aWR0aF9tZWFzdXJlIjoiJSIsImJnX3R5cGVfMCI6Im5vbmUiLCJiZ19pbWdfMCI6IiIsImJnX2NvbG9yXzAiOiIjODFkNzQyIiwiYmdfdHlwZV8xIjoiY29sb3IiLCJiZ19pbWdfMSI6IiIsImJnX2NvbG9yXzEiOiIjNGZiZWVjIiwiYmdfdHlwZV8yIjoiY29sb3IiLCJiZ19pbWdfMiI6IiIsImJnX2NvbG9yXzIiOiIjNGZiZWVjIiwiYmdfdHlwZV8zIjoiY29sb3IiLCJiZ19pbWdfMyI6IiIsImJnX2NvbG9yXzMiOiIjMzMzMzMzIiwiZmllbGRfZXJyb3JfaW52YWxpZCI6IiIsImZvcm1fc2VudF9tc2ciOiJUaGFuayB5b3UgZm9yIGNvbnRhY3RpbmcgdXMhIiwiZm9ybV9zZW50X21zZ19jb2xvciI6IiM0YWU4ZWEiLCJoaWRlX29uX3N1Ym1pdCI6IjEiLCJyZWRpcmVjdF9vbl9zdWJtaXQiOiIiLCJ0ZXN0X2VtYWlsIjoiQW5hLkNhcmFnZWFAeWFob28uY29tIiwic2F2ZV9jb250YWN0cyI6IjEiLCJleHBfZGVsaW0iOiI7IiwiZmJfY29udmVydF9iYXNlIjoiIiwiZmllbGRfd3JhcHBlciI6IjxkaXYgW2ZpZWxkX3NoZWxsX2NsYXNzZXNdIFtmaWVsZF9zaGVsbF9zdHlsZXNdPltmaWVsZF08XC9kaXY+In0sImZpZWxkcyI6W3siYnNfY2xhc3NfaWQiOiIxMiIsIm5hbWUiOiJuYW1lIiwibGFiZWwiOiIiLCJwbGFjZWhvbGRlciI6Ik5hbWUiLCJ2YWx1ZSI6IiIsImh0bWwiOiJ0ZXh0IiwibWFuZGF0b3J5IjoiMSIsIm1pbl9zaXplIjoiIiwibWF4X3NpemUiOiIiLCJhZGRfY2xhc3NlcyI6IiIsImFkZF9zdHlsZXMiOiIiLCJhZGRfYXR0ciI6IiIsInZuX29ubHlfbnVtYmVyIjoiMCIsInZuX29ubHlfbGV0dGVycyI6IjAiLCJ2bl9wYXR0ZXJuIjoiIn0seyJic19jbGFzc19pZCI6IjEyIiwibmFtZSI6ImVtYWlsIiwibGFiZWwiOiIiLCJwbGFjZWhvbGRlciI6IkVtYWlsIiwidmFsdWUiOiIiLCJodG1sIjoiZW1haWwiLCJtYW5kYXRvcnkiOiIxIiwibWluX3NpemUiOiIiLCJtYXhfc2l6ZSI6IiIsImFkZF9jbGFzc2VzIjoiIiwiYWRkX3N0eWxlcyI6IiIsImFkZF9hdHRyIjoiIiwidm5fb25seV9udW1iZXIiOiIwIiwidm5fb25seV9sZXR0ZXJzIjoiMCIsInZuX3BhdHRlcm4iOiIwIn0seyJic19jbGFzc19pZCI6IjEyIiwibmFtZSI6Im1lc3NhZ2UiLCJsYWJlbCI6IiIsInBsYWNlaG9sZGVyIjoiTWVzc2FnZSIsInZhbHVlIjoiIiwiaHRtbCI6InRleHRhcmVhIiwibWFuZGF0b3J5IjoiMSIsIm1pbl9zaXplIjoiIiwibWF4X3NpemUiOiIiLCJhZGRfY2xhc3NlcyI6IiIsImFkZF9zdHlsZXMiOiIiLCJhZGRfYXR0ciI6IiIsInZuX29ubHlfbnVtYmVyIjoiMCIsInZuX29ubHlfbGV0dGVycyI6IjAiLCJ2bl9wYXR0ZXJuIjoiMCJ9LHsiYnNfY2xhc3NfaWQiOiIxMiIsIm5hbWUiOiJyZUNBUFRDSEEiLCJsYWJlbCI6InJlQ0FQVENIQSIsImh0bWwiOiJyZWNhcHRjaGEiLCJ0ZXJtcyI6IiIsInJlY2FwLXRoZW1lIjoibGlnaHQiLCJyZWNhcC10eXBlIjoiaW1hZ2UiLCJyZWNhcC1zaXplIjoibm9ybWFsIn0seyJic19jbGFzc19pZCI6IjEyIiwibmFtZSI6InNlbmQiLCJsYWJlbCI6IlN1Ym1pdCIsImh0bWwiOiJzdWJtaXQiLCJhZGRfY2xhc3NlcyI6IiIsImFkZF9zdHlsZXMiOiIiLCJhZGRfYXR0ciI6IiJ9XSwib3B0c19hdHRycyI6eyJiZ19udW1iZXIiOiI0In19LCJpbWdfcHJldmlldyI6Im5lb24uanBnIiwidmlld3MiOiIyNzg0IiwidW5pcXVlX3ZpZXdzIjoiMTE1MyIsImFjdGlvbnMiOiIzMyIsInNvcnRfb3JkZXIiOiIwIiwiaXNfcHJvIjoiMCIsImFiX2lkIjoiMCIsImRhdGVfY3JlYXRlZCI6IjIwMTYtMDUtMDMgMTU6MDE6MDMiLCJpbWdfcHJldmlld191cmwiOiJodHRwczpcL1wvd3d3LnN0cmF0ZWdpY2Rpc2NvdmVyeS5jb2FjaFwvd3AtY29udGVudFwvcGx1Z2luc1wvY29udGFjdC1mb3JtLWJ5LXN1cHN5c3RpY1wvYXNzZXRzXC9mb3Jtc1wvaW1nXC9wcmV2aWV3XC9uZW9uLmpwZyIsInZpZXdfaWQiOiI0XzQ2OTU1NiIsInZpZXdfaHRtbF9pZCI6ImNzcEZvcm1TaGVsbF80XzQ2OTU1NiIsImNvbm5lY3RfaGFzaCI6ImVmYjYzOGY0ZjNhMWNjN2IyN2E1NDk5NWZiNzg5YWVhIn0=