I don't work with formulas, I don't have a preset for you. No, we get to create together. We get to connect to our intuition and to let the inspiration flow. And things will shift for you. You'll get the chance to connect with what is really important for you and to start living on Purpose. And that's Fun and Exciting!
The clients that I'm most passionate about working with are heart-centred leaders who want to let their HEART lead more. Some of the work that we do is on their communication skills, personal development, discovering their vision, trusting their intuition, building trust with their colleagues and much more.

What is possible for you from this perspective?..
My answer to that – anything that your heart desires!
Let's have a conversation – I want to gift to you this opportunity to Break Free from all of your day by day routine that's not serving you.
Book a Free Clarity Call and let's talk!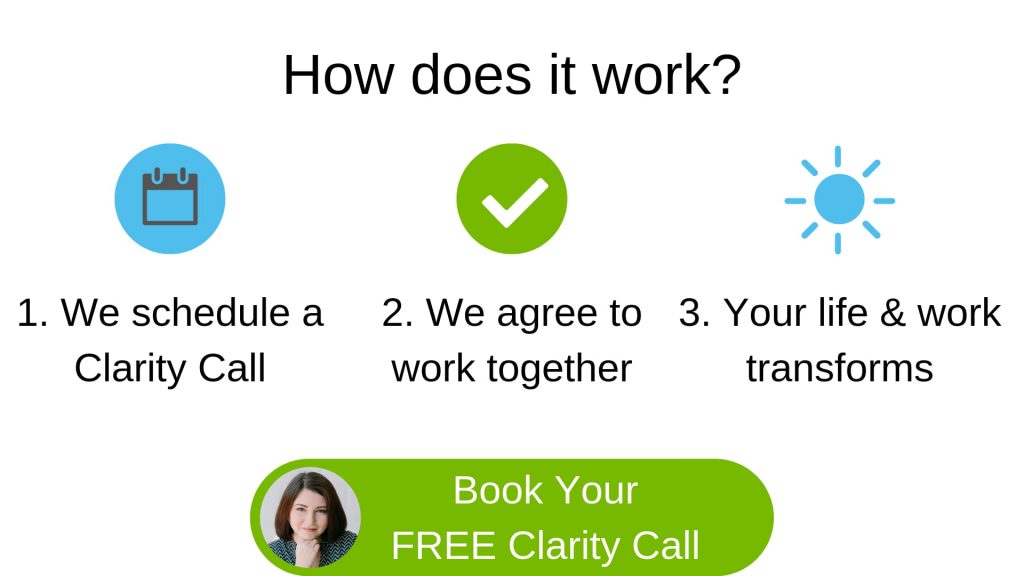 ---
My Services are Custom-Made.
Because You are Unique, and because I want to honour that uniqueness, each coaching program is adjusted to your Vision.  Our sessions are confidential and you have control of the coaching agenda.
I Have Rules:
I am very selective with whom I coach

. I work with Inspiring and Courageous Leaders who are ready to let their Authentic Self be seen, to create a work and a life that is Heart-Centred and filled with Joy, Meaning and Contribution.

My clients come into a session with an open

mind

and heart. I care that you come into a session without holding back. I care that you Become your Best Version. I ask of my clients to be Authentic, Real, Vulnerable. I will also be Authentic, Real and Vulnerable and I will share my stories with you.
You invest in Yourself, I'm here to Serve You and your Vision 100%

. I charge more than other coaches do. You invest your time, commitment and money into your Joy, Purpose and Authenticity.

If my rules don't scare you, good. I take just a few clients at a time, and all my offerings are by invitation and referral only.
If you are ready to explore what working together can be like, contact me using the form below. Some things I'd like to know before our call:
1. What do you want to achieve with coaching (tell me a little bit about your dream/vision)?
2. What scares you about your next step towards that?
3. How do you know you are ready to make your dream/vision come true?
Optional:
1. Who referred you?
2. Where do you live?
eyJpZCI6IjQiLCJsYWJlbCI6IkNvbnRhY3QgbWUiLCJhY3RpdmUiOiIxIiwib3JpZ2luYWxfaWQiOiIyIiwidW5pcXVlX2lkIjoiZm9lNDJrIiwicGFyYW1zIjp7InRwbCI6eyJ3aWR0aCI6IjkwIiwid2lkdGhfbWVhc3VyZSI6IiUiLCJiZ190eXBlXzAiOiJub25lIiwiYmdfaW1nXzAiOiIiLCJiZ19jb2xvcl8wIjoiIzgxZDc0MiIsImJnX3R5cGVfMSI6ImNvbG9yIiwiYmdfaW1nXzEiOiIiLCJiZ19jb2xvcl8xIjoiIzRmYmVlYyIsImJnX3R5cGVfMiI6ImNvbG9yIiwiYmdfaW1nXzIiOiIiLCJiZ19jb2xvcl8yIjoiIzRmYmVlYyIsImJnX3R5cGVfMyI6ImNvbG9yIiwiYmdfaW1nXzMiOiIiLCJiZ19jb2xvcl8zIjoiIzMzMzMzMyIsImZvcm1fc2VudF9tc2ciOiJUaGFuayB5b3UgZm9yIGNvbnRhY3RpbmcgdXMhIiwicmVkaXJlY3Rfb25fc3VibWl0IjoiIiwic2F2ZV9jb250YWN0cyI6IjEiLCJmaWVsZF93cmFwcGVyIjoiPGRpdiBbZmllbGRfc2hlbGxfY2xhc3Nlc10gW2ZpZWxkX3NoZWxsX3N0eWxlc10+W2ZpZWxkXTxcL2Rpdj4ifSwiZmllbGRzIjpbeyJsYWJlbCI6IiIsInBsYWNlaG9sZGVyIjoiTmFtZSIsImh0bWwiOiJ0ZXh0IiwidmFsdWUiOiIiLCJtYW5kYXRvcnkiOiIxIiwibmFtZSI6Im5hbWUiLCJic19jbGFzc19pZCI6IjEyIiwiZGlzcGxheSI6IiIsIm1pbl9zaXplIjoiIiwibWF4X3NpemUiOiIiLCJhZGRfY2xhc3NlcyI6IiIsImFkZF9zdHlsZXMiOiIiLCJhZGRfYXR0ciI6IiIsInZuX29ubHlfbnVtYmVyIjoiMCIsInZuX29ubHlfbGV0dGVycyI6IjAiLCJ2bl9wYXR0ZXJuIjoiIn0seyJsYWJlbCI6IiIsInBsYWNlaG9sZGVyIjoiRW1haWwiLCJodG1sIjoiZW1haWwiLCJ2YWx1ZSI6IiIsIm1hbmRhdG9yeSI6IjEiLCJuYW1lIjoiZW1haWwiLCJic19jbGFzc19pZCI6IjEyIiwiZGlzcGxheSI6InJvdyIsIm1pbl9zaXplIjoiIiwibWF4X3NpemUiOiIiLCJhZGRfY2xhc3NlcyI6IiIsImFkZF9zdHlsZXMiOiIiLCJhZGRfYXR0ciI6IiIsInZuX29ubHlfbnVtYmVyIjoiMCIsInZuX29ubHlfbGV0dGVycyI6IjAiLCJ2bl9wYXR0ZXJuIjoiMCJ9LHsibGFiZWwiOiIiLCJwbGFjZWhvbGRlciI6Ik1lc3NhZ2UiLCJodG1sIjoidGV4dGFyZWEiLCJ2YWx1ZSI6IiIsIm1hbmRhdG9yeSI6IjEiLCJuYW1lIjoibWVzc2FnZSIsImJzX2NsYXNzX2lkIjoiMTIiLCJkaXNwbGF5Ijoicm93IiwibWluX3NpemUiOiIiLCJtYXhfc2l6ZSI6IiIsImFkZF9jbGFzc2VzIjoiIiwiYWRkX3N0eWxlcyI6IiIsImFkZF9hdHRyIjoiIiwidm5fb25seV9udW1iZXIiOiIwIiwidm5fb25seV9sZXR0ZXJzIjoiMCIsInZuX3BhdHRlcm4iOiIwIn0seyJsYWJlbCI6IlN1Ym1pdCIsInBsYWNlaG9sZGVyIjoiIiwiaHRtbCI6InN1Ym1pdCIsInZhbHVlIjoiIiwibWFuZGF0b3J5IjoiMCIsIm5hbWUiOiJzZW5kIiwiYnNfY2xhc3NfaWQiOiIxMiIsImRpc3BsYXkiOiIiLCJtaW5fc2l6ZSI6IiIsIm1heF9zaXplIjoiIiwiYWRkX2NsYXNzZXMiOiIiLCJhZGRfc3R5bGVzIjoiIiwiYWRkX2F0dHIiOiIiLCJ2bl9vbmx5X251bWJlciI6IjAiLCJ2bl9vbmx5X2xldHRlcnMiOiIwIiwidm5fcGF0dGVybiI6IjAifV0sIm9wdHNfYXR0cnMiOnsiYmdfbnVtYmVyIjoiNCJ9fSwiaW1nX3ByZXZpZXciOiJuZW9uLmpwZyIsInZpZXdzIjoiMTk2MyIsInVuaXF1ZV92aWV3cyI6IjYwOCIsImFjdGlvbnMiOiIxNyIsInNvcnRfb3JkZXIiOiIwIiwiaXNfcHJvIjoiMCIsImFiX2lkIjoiMCIsImRhdGVfY3JlYXRlZCI6IjIwMTYtMDUtMDMgMTU6MDE6MDMiLCJpbWdfcHJldmlld191cmwiOiJodHRwczpcL1wvc3Vwc3lzdGljLTQyZDcua3hjZG4uY29tXC9fYXNzZXRzXC9mb3Jtc1wvaW1nXC9wcmV2aWV3XC9uZW9uLmpwZyIsInZpZXdfaWQiOiI0XzU0MTU2Iiwidmlld19odG1sX2lkIjoiY3NwRm9ybVNoZWxsXzRfNTQxNTYiLCJjb25uZWN0X2hhc2giOiI4ZTdlYmU2ZmYxYjExZWExMGMwNjljYjFhNGRiZmRmNiJ9